Before Christmas, I made a little booklet of folded pages of watercolor paper, held together with a rubber band. I figured I'd want something small to put into my purse for when I had some downtime. You see, my mother wasn't well, and I knew I'd be taking care of her once she came back from the hospital.
Over the holiday, I plopped paint onto the pages, not really having a rhyme or reason, just playing with watercolors because I don't have a lot of experience with them, and I wanted to figure out how they "worked".
When she came home, most of my time was taken up with the house and her. When she was sleeping late at night, I pulled out my pens—Microns, mostly—and a small 1/2 pan of gold watercolor paint to begin doodling on the color I'd already painted on the pages.
Over the next eleven days, here's what I made…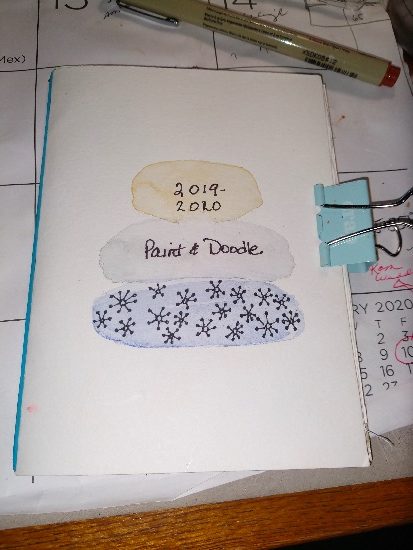 I tried to paint rocks on top of each other, but without really knowing how to shade or blend, they just look like oblong puddles of paint. 🙂
This was more of a disaster. I painted loose florals, hated them all, and blotted them up with a paper towel. So, the only thing I knew to do was try to draw some flowers on top of it. I really, really don't like this page.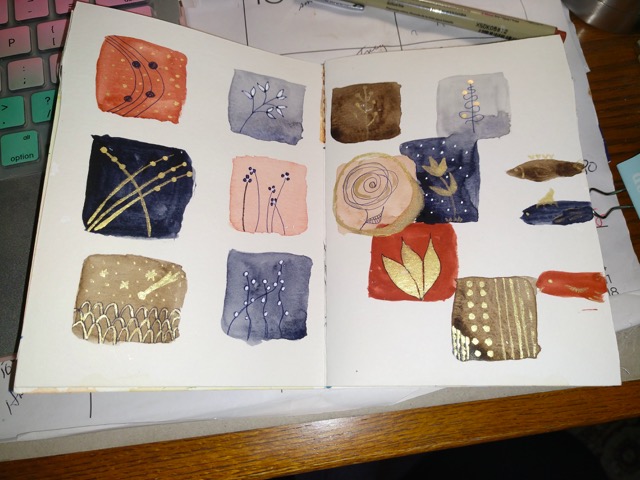 I watched a couple of #CeeCeeCreations YouTube videos, and decided I'd give her style a try. The left page is more orderly, like hers, but I started getting a little rebellious on the right. I do like this page better than the ones before it.
This was another "mistake" page. I started laying down paint, hated it, decided to fleck paint at it, hated it even more, then doodled on top of it because I had to.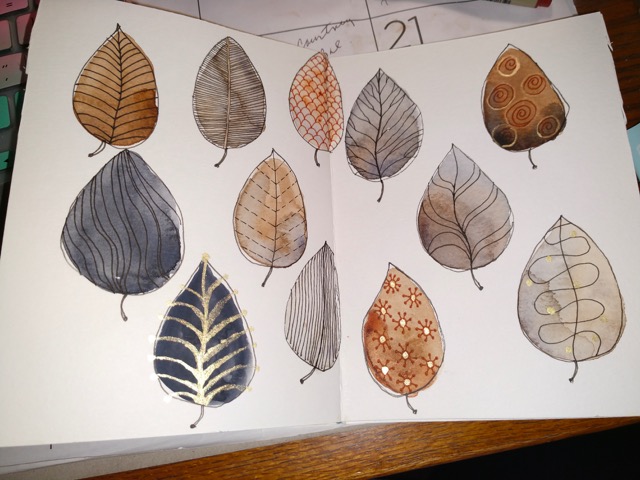 I really like how this page turned out. I used Peyne's grey and burnt sienna. Then I went to town doodling. I don't like the really gold one on the bottom left, but the rest were fun. Plus, I began to trust my hand. As it turns out, I don't have to draw a straight line to produce  something I like.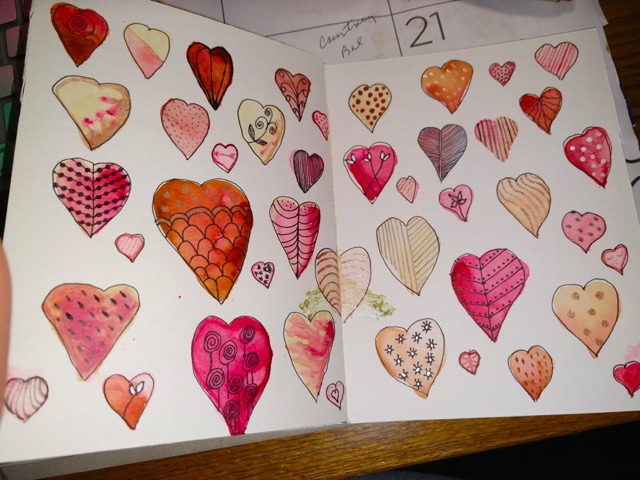 I was thinking of what I might do on cards for Valentine' Day and painted a bunch of hearts. Some of them I like, some I don't. At least I know which to choose to decorate a card face.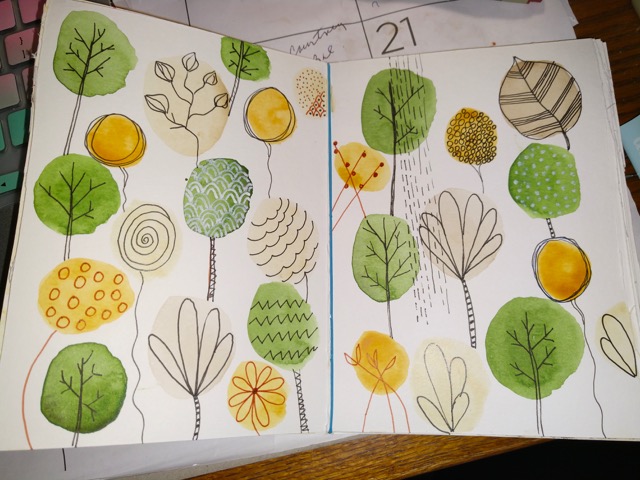 And this was my favorite page. It's playful, has too much white space, but I like the colors and it feels hopeful. I needed that. My mother passed on January 10th, and now everything around me is speeding up while the estate is settled. I'm working in an insert in my traveler's notebook now, laying down paint for the nights when I can't sleep.